How Can You Improve Communication to  Create a More Responsive and Sociable Workplace and Beyond?
ASK ROSALINDA!
For over a decade, I have been addressing rude behavior, everyday dilemmas and spreading civility by focusing on communication techniques, presence, and considerate behavior. At Ask Rosalinda, I offer individuals options on how to interact more effectively with a lot less drama, less potential for harassment, and without losing their individuality.
In most cases, we can direct a conversation for a more agreeable outcome, regardless the topic. With a whole lot of personality and humor, I offer tactful and straightforward advice that breaks down the perception that social skills and good manners are outdated or too formal.
Need help navigating today's ever-changing workplace culture and social situations?
ASK ROSALINDA!
WORKPLACE MEETINGS: Post-Covid
Weddings: Cancelled Because of Covid
Non-Essential Shopping: Is it your business?
MEDIA
Covid-Related Social Dilemmas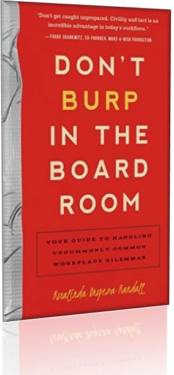 Grab The One Book That Tackles The Really TOUGH  Workplace Dilemmas. Don't Burp In The Board Room Is Your Guide To Handling Uncommonly Common Workplace Dilemmas From The Boardroom To The Office To The Warehouse And Beyond.