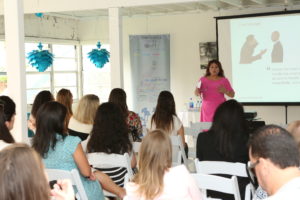 Social Skills | Civility | Etiquette Help People Respond Instead of React.
Before a nuisance or dilemma turns into a Human Resource nightmare, or worse, a legal battle, let's talk.
For over a decade, Rosalinda Randall has been helping businesses and individuals fine-tune their communication style and soft skills so that the workplace is a more enjoyable environment with less conflict.
These presentations address and offer tips, techniques, and perspective to some of the most common workplace issues faced today. Also, it will help prepare up and coming employees for leadership positions, orient new-hires, address concerns, support HR policies, and strengthen a company's overall image.
Don't let an employee's misstep or rude behavior land your company's name on tomorrow's front page.
A few of the most common concerns she's been called to address recently are: Poor hygiene & unkempt appearance, how to properly greet clients, lack of business behavior, and meeting conduct.
Below is a list of the available presentations by Rosalinda Randall. Click the icon next to each to see more details. Her presentations are tailored for your budget and audience.