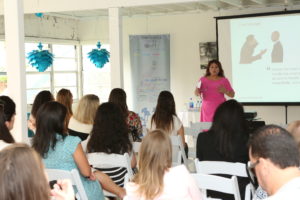 Whether Casual or Corporate-Formal, Having Your Employees Get Along and Represent Your Brand Well, is Key for the Success of the Company.
Before a nuisance or dilemma turns into a Human Resource nightmare, or worse, a legal battle, let's talk.
For over a decade, Rosalinda Randall has been helping businesses and individuals fine-tune their communication style and soft skills so that the workplace is a more enjoyable environment with less conflict and less drama.
WSJ, "The Costs of Workplace Rudeness" states that rudeness can "harm an employee's well-being…"  I focus on the subtleties and how you can say what you mean without being mean. Quite an elementary concept.
Let me help you combat rudeness by reinforcing effective and mindful communication techniques. 
These presentations address and offer tips, techniques, and perspective to some of the most common workplace issues faced today. Also, it will help prepare up and coming employees for leadership positions, orient new-hires & lay-offs, address concerns, support HR policies, and strengthen a company's overall image.
An employee's appearance, attitude, and behavior directly reflects the company's reputation and image.
In addition to her general presentations, she also covers topics like Networking, Meeting Behavior, Trade Show Manners, First Impressions, Telephone Manners, Email Etiquette, When You're New on the Job, Social Media Image, Interview Prep.
Below is a list of the more general presentations by Rosalinda Randall. Click the icon next to each to see more details. Her presentations are tailored for your budget and audience.