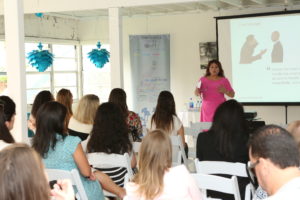 Whether Casual or Corporate-Formal, Having Your Employees Get Along, Respect One Another, and Represent Your Brand Well, is Key for the Success of the Company.
For over fifteen years, Rosalinda Randall has been helping businesses and individuals fine-tune their communication style and soft skills so that the workplace is a more respectful and enjoyable environment with less conflict and less drama.
She addresses and offers options, techniques, and perspective to some of the most common workplace issues faced today like, harassment, lack of communication and social skills, developing a professional demeanor and presence, and her four go-to key questions that will help individuals respond instead of react.
HR'S HOT TOPIC:  After harassment and compliance training, often times employees are simply left with a list of do's and don'ts, legal jargon, and sometimes anxiety not knowing if the next word they utter will be perceived as harassment! My presentations pick up where you left off, providing communication and social skills, techniques and tools to implement their newly acquired knowledge. An optimal fit. 
I use my EEOC compliance training to enhance my understanding of harassment in the workplace. My focus is to help reduce misunderstandings and perceived harassment through respectful communication, employing soft skills, and business manners. 
Bringing in an outside source to support your company's policies can be less daunting for HR and it shows that you are backing up your policies, providing supplementary support, and investing in making the workplace comfortable and enjoyable for everyone. Here are more reasons:
Reduce misunderstandings among coworkers, managers, clients

Deter employees who want to capitalize on "creative harassment" issues
Diminish perception of harassment
Equip employees with communication techniques and tools to help them respond instead of react
Create and encourage an environment of responsible communication
Educate and set a standard of appropriate behavior for all levels
Support managers and HR policies
Address current issues: inappropriate behavior leading to possible harassment claims, coworker after-work/out-of-town events, generational differences, unimpressive employee appearance, meeting with clients
Earn credits to meet certification requirements
To prepare up and coming employees for leadership positions, attending conferences, meeting with clients
As a part of the orientation process
Strengthen the company's overall image.
She also covers topics like Networking, Meeting Behavior, Trade Show Manners, First Impressions, Telephone Manners, Email Etiquette, When You're New on the Job, Social Media Image, Interview Prep.
Before a nuisance or dilemma turns into a Human Resource nightmare, or worse, a legal battle, let's talk.
Her presentations are tailored for your budget and audience. Click the icon next to read about some of her available presentations.