Discussing politics in the workplace can be risky, but it happens, especially around every election season. Politics can divide and create an explosive atmosphere, which is why I strongly suggest avoiding the topic altogether. However, for those who feel the need to bring politics into the workplace, here are some things to consider before doing so.
more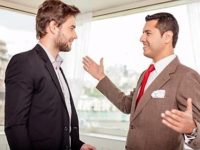 We all mess up at work; it's how you handle things afterwards that reveals your character and professionalism (or lack of it).
In the workplace, there are situations where an apology can be a good career move. For example:
1. Clients
. First of all, "the customer is always right" is not always true. However,...
more