Spicy Friday | Etiquette for the Come-On

Etiquette for the Come-On
Nervy or Natural?



Exhilarating?   A compliment (you still got it)?  Or, an incredulous gasp accompanied with a how-dare-you look.  Which camp are you in?
Is it different when it's your friend's or co-worker's spouse?  …still consider it a compliment?
Unless you have a vendetta against your friend, co-worker, or are feud'n with a cousin, a spousal come-on is always awkward and usually an unwelcome advance, to say the least.
What would you do?  
Reactions vary:
confidentially tell the philanderer that if this happens again, to you or someone else, you will turn into an informant.

don't say a word to anyone and forget the whole thing.

it depends, was there alcohol involved?

don't address the philanderer at all, go directly to their spouse and spill the beans.
If you decide to spill the beans, be prepared that the unsuspecting spouse may blame you.  Your blouse was too revealing; you're too friendly and that gives the wrong impression; you showed too much interest, etc.
Handling it with civility and etiquette:  Some relationships overlook this type of behavior;  while others would be devastated.  There are so many things to consider before speaking up.  The most effective would be to discreetly handle the come-on on the spot, and move on.
________SPREADING CIVILITY.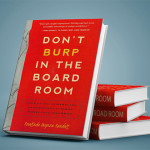 Take a look at her new book, "Don't Burp in the Boardroom – Handling uncommonly common workplace dilemmas"
Rosalinda Randall is a Civility and Etiquette Consultant. She has been spreading civility throughout the San Francisco Bay Area and beyond for over fourteen years.  She provides on-site workshops to support HR policies, staff development, restaurant staff, college and university students and staff, as well as private consultations.  650.871.6200