ABOUT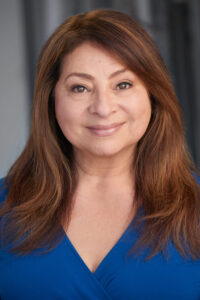 Rosalinda Randall is a nationally recognized etiquette expert, author of two books, and media source. She has been quoted in world-wide publications and serves as an expert source for radio and television.
Rosalinda believes that in most cases we can direct a conversation for a more agreeable outcome. Sometimes, it takes an adjustment in our attitude, a little strategy, and purpose.
For over twenty years, Rosalinda has been addressing workplace and social dilemmas, helping individuals and coworkers improve their professional presence, as well as their relationships. She offers different perspectives, simple techniques, and options that can be implemented immediately.
Rosalinda has provided training, virtually and in-person to a wide-range of individuals. From formerly incarcerated women, college students, non-profit organizations to tech-employees.
She helps people become aware of how our communication habits and style influences an interaction and a conversation. With different generations, genders, upbringing, cultural backgrounds, and varying opinions about COVID and other causes and movements in our society, a little guidance can help.
Returning to the workplace will be a challenge. Companies need to address new work habits, re-establish relationships, and review new workplace rules.
Ease your staff and affirm your expectations, workplace culture, and policies and procedures with an in-person or virtual training. For more information, please contact me.
---
How does etiquette play a role in today's society? Today, many people associate etiquette with terms like, out-of-date, old-school, and formality. While many rules of etiquette have disappeared, many more have evolved, and will continue to do so as society evolves.
Here is how she defines etiquette: It's how you choose to present yourself. It's the lingering effect you leave behind. It's the difference of imposing your way upon others, or making an effort to engage in civil discourse to find a solution. Uncovering our sense of humor and sometimes choosing to overlook minor infractions.
---
ROSALINDA'S BOOKS:
"Keep Your Distance! Your guide to common dilemmas in uncommon times."
"Don't Burp in the Boardroom. Handling Uncommonly Common Workplace Dilemmas"
 TRAINING AND CERTIFICATIONS
"COVID-19 Safety Compliance Certificate
"Sexual Harassment Prevention"
"Workplace Ethics Training" 
"Maintaining a Respectful Workplace Environment"
"Cross Cultural Communication"
---
TRAINING STYLE:
Address company/employee concerns, encourage audience participation; offer options, not immovable rules; tactful, candid, with a sense of humor. 
PERSONAL SIDE:
Quiet time hangouts: The beach and Golden Gate National Cemetery
Secret food indulgence:  Sugar Frosted Flakes by the handful
Secret all-time favorite television show: The Love Boat
Something few people know: She is a quarter Syrian.
What makes or breaks a relationship: Trust.
Proudest accomplishments: Personally: Her two grown sons & a happy marriage.  Professionally: Writing a book.
Role models:  Parents.
Personal mottos: You can say what you mean without being mean. And Most nastiness, is not worth addressing.
Spare time fun: Dancing, pilates (latest obsession), acting.