A professional atmosphere doesn't equal a stuffy atmosphere.
A simple greeting, a smile, not replying to emails, allowing someone to finish their sentence, or knowing when to keep quiet–these subtleties are how we reveal our professional skills, or lack of them.
Being tactful and behaving and speaking with a little courtesy and consideration can help the workplace atmosphere and diminish unpleasant situations. And, as a bonus, it makes a person more likable.
How would your organization benefit from a Business Etiquette Expert?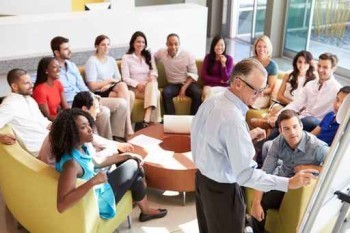 Though the benefits are many, it comes down to: Developing self confidence in your staff and establishing guidelines so that your employees can accurately represent the company's image and standards.
Armed with the ability to handle office dilemmas with dignity, clearly communicate, understand expectations, conduct themselves in a friendly yet respectful manner and effectively interact with fellow employees and clients from all walks of life, your staff will stand out.  Additionally, productivity will soar, complaints will drop, and your bottom line will increase.
How much more productive would your organization be if no one wasted time due to misunderstandings, uncomfortable situations, outbursts, gossip, etc.. Give them what they need to succeed: The self-confidence gained by polishing their professional skills in one of Rosalinda's workshops.
Business Etiquette Expert Rosalinda appears on Fox 5 DC to speak about Etiquette in the Workplace
Don't Burp in the Boardroom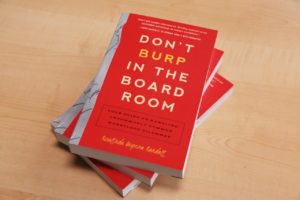 Rosalinda delivers her advice and expertise through interactive workshops, speaking engagements, and books, that are spirited and sprinkled with humor.
Purchase a book for each of your employees. Make it a part of your hiring packet.
Affiliations

Rosalinda's Twitter Feed