First Dates on Valentine's Day.
Are first dates on Valentine's Day come with added pressure and expectations?
Do you have a date for Valentine's Day? Is it your first date? Does your date have high expectations?
Depending on the type of person you are dating, the demand to impress may go well beyond the basic tips below.
If your date has already texted you gift ideas, run!
If the expectation is that you'll be spending more because it is Valentine's Day, run! Going in debt before the first date is careless, foolish and desperate.
If you are apprehensive about the significance and pressure, reschedule the date.
For Him: Things to consider
Make reservations in advance. (There's always the "Curry To-Go" street truck.)

Clean your car. (It shows effort, or lack of it.)

Shower! And, wear something that's wrinkle-free, smell-free, and rip-free. If you have trouble with this, click here,

Cary Grant's style

Walk up to her door when you pick her up and drop her off. (A honk or text? Really?)

Compliment her style, outfit, hair…
Bring a modest gift. (flowers, perfume, a bottle of wine, you could even give her gold earrings if you really want to impress!)

Put your cell phone away. (You will survive; it shows the person that you are interested and looking forward to spending time with them.)

Be prepared to pay for dinner. (It's tradition.)

Don't eye other women. (Remove your "shades." )

At the doorstep; don't assume she'll ask in for a "cup of coffee." (Don't be pushy.)

Thank her for her company. (If you don't intend to ever see her again, don't say it.)

For Her: Things to consider

Be on time. A few minutes late can be overlooked–don't act like a diva. Besides you may lose your reservation. (Or, the "Curry To-Go" street truck may be your only option.)

Don't order the most expensive item on the menu. (You've just told him a lot about yourself.)

Although it is more common for the male to bring a gift, you can also consider getting him some modest valentines day gifts like custom keychains.
Put your cell phone away. (It's just respectful.)

Don't just talk about yourself. (Yawn.)

Don't compare prior Valentine's Day dates. (What if he did? Hmm?)

Thank him for dinner. (Yes, even if it was the "Curry To-Go" street truck.)

Even if the gift doesn't meet your expectations; smile and say, "thank you." He didn't have to buy anything. (Thoughtfulness; a great trait.)

Final remarks: Expecting either party to indulge your fantasy just because it's Valentine's Day is immature. Unless, both parties have the same fantasy, then whatever.
Helping Businesses and Individuals Find Success Through Better Communication and Social Skills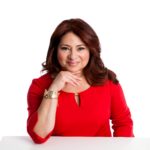 Rosalinda Oropeza Randall, Social Skills and Civility Presenter, Media Source, and author of "Don't Burp in the Boardroom."
Presentations are available to support HR policies, sales teams, up and coming managers, millennials & new-hire orientation process, service technicians, professional development events, conferences, college/university students, interns. For more information, please contact me, 650.871.6200.
© 2017 Rosalinda Randall. All Rights Reserved.