Writing Love Letters
Have you ever received a love letter that you reread and even held it against your chest?
The ease of an e-card is marvelous. If we forget an occasion, we have until that night to quickly click and send our sentiments to the recipient. 
The other day, after reading a very beautiful e-card, it hit me; I can't save it.  Well, technically, I can.  I can hit "print" and place the "card" in a pile, probably never making it into my "letter box." 
Taking the lid off a letter-box is something that many people will never experience.  From time to time, I take out cards and love letters, taking it out of the envelope and unfolding it with care, I hold it, read it with fondness, and maybe shed a tear recalling the memory. 
In fact, the typewritten letters shown in the photo are from my husband. When we met, I was living in Southern California, and he was in Northern California.  So, we wrote letters to each other. Telephoned only once or twice per week. The anticipation of looking in the mail box and spotting his letter is a memory I will always have.
Consider writing a letter, using a pen and paper!  Discount stores like Marshall's and Ross have oodles of stationary to choose from. Or just grab a sheet of printer paper and start writing. Don't forget to buy stamps, yet another obstacle, right!
Please don't misunderstand, a card is a card, a greeting is a greeting; all welcomed and cherished.
Which do you prefer?  If you are of a certain age, you might not even know what I'm talking about.
Final thoughts: How romantic is it knowing that he or she stopped everything else to write a letter or note to you?  They devoted several minutes to you. Wow, right?  Look, no matter how the card is sent, it is the thought and sentiment that counts.
If you are concerned about "being green", buy recycled paper.  In life there are some things that are just too beautiful to never engage in. One, is a love letter. 
Helping Businesses and Individuals Find Success Through Better Communication and Social Skills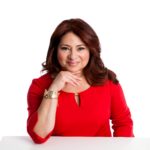 Rosalinda Oropeza Randall, Social Skills and Civility Presenter, Media Source, and author of "Don't Burp in the Boardroom."
Presentations are available to support HR policies, sales teams, up and coming managers, millennials & new-hire orientation process, service technicians, professional development events, conferences, college/university students, interns. For more information, please contact me, 650.871.6200.