Today's Pick-Up Line
Before we go out, I need to know your credit score.
Ah, did you ever think we'd miss the charming innocent ice breaker of the 80's? "Hey foxy lady, what's your sign?" In the 90's, the ice breaker was a bit more "life and death" related; "Have you been checked (std's)?" Today, all of the romance has disappeared; "You're cool, but what's your credit score?" Anything above 650, take me now; below, it's been swell. Some people, however, may simply just not know their credit score; find out here How to check your credit score with your ITIN Number if you're unsure.
Because this is becoming more and more of a concern for those in the dating world, some dating web sites have incorporated this point into their process. For example, "Good Credit Is Sexy," says one site, Creditscoredating.com, which allows members to view the credit scores of potential dates who agree to provide the numbers. Another site, DateMyCreditScore.com, allows members to post their scores. Mmm, 850, she's sexy.
Asking about credit scores and other financial data on your first-date is risky. You can be perceived as an opportunist, scoundrel, pompous, or a bit nervy. On the hand, some may see it as pragmatic, responsible, even sensible–a match made in heaven. Either way, if you're wearing female pheromones or male pheromones in your perfume or aftershave, they're going to be unable to resist you, no matter your credit score.
What do you think? Pragmatism over romance?
Asking about someone's credit score is less invasive than asking the following: "What kind of car do you drive?", "Do you rent or own?", "How much do you make?", or "Are you credit cards max'd out?"
Helping Businesses and Individuals Find Success Through Better Communication and Social Skills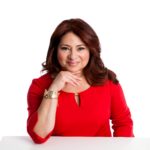 Rosalinda Oropeza Randall, Social Skills and Civility Presenter, Media Source, and author of "Don't Burp in the Boardroom."
Presentations are available to support HR policies, sales teams, up and coming managers, millennials & new-hire orientation process, service technicians, professional development events, conferences, college/university students, interns. For more information, please contact me, 650.871.6200.