An Interview With a Millennial
The millennial generation is in the spotlight. More so than any recent generation. I'd say, since the "hippie" generation.
Why is this generation making such a splash? What is making this generation so influential? Does the dawn of social media have something to do with it?
In my experience, millennials are like sponges. They are curious and if interested in the subject, they are open to learning about it.
This week's featured guest is Amanda Suazo. A recent college grad, and like many, got tired of looking for a job. With a few setbacks, she persevered and is now working on her MBA, does freelance work, and is moving to a faraway place and more.
The Interview
Rosalinda: Amanda, Do "millennial" women entrepreneurs have a leg up on their predecessors?
Amanda: Absolutely. Millennials, most of which are new to business ownership, can use social media to understand their industries, network, and access huge pools of resources, whether it be marketing advice and help from https://victoriousseo.com/ or from interconnecting discussions on social media platforms like LinkedIn and Twitter. Since we're more comfortable than other generations with sharing our personalities and brands on a widespread scale, we can easily connect with like-minded colleagues and potential clients.
Rosalinda: How has it worked for you?
Amanda: I just started using Twitter regularly this year, and the return has been incredible; I already have new contacts and blog readers that I never would have found otherwise. This is the good thing about social media, businesses are able to connect with so many potential clients from around the world. You can use something like Social captain, or Socialcaptain alternatives to gain followers in order to expand your outreach. Without social media, their client base would be much more limited. This is why so many business owners are opting towards social media marketing to increase brand awareness. Whilst I've found Twitter to be useful, some of my friends have actually said that Instagram seems to work better for them. When starting an Instagram account for your business, it might be worth buying some Instagram followers at first. This can increase engagement straight away, possibly encouraging others to follow you. To buy followers, websites like nitreo.com could be of use. That should help business owners. Also, I have no formal research on this, but I would also venture that female millennials, in particular, are more wired for collaboration than their male counterparts-simply put, we're ready to do business!
As women, entrepreneurs today have more control than ever over their career advancement. While most people apply Sheryl Sandberg's Lean In movement to traditional business environments, the idea that women can unapologetically ask for more in their professional lives applies to independent entrepreneurs too.
Rosalinda: We met on Twitter so your point is well-made. What is the advantage in entrepreneurship over taking the corporate route?
Amanda: We don't have to deal with bureaucratic red tape like most corporate employees, we can set our own hours, and give ourselves the freedom and flexibility that we want.
Rosalinda: You know better than I, millennials are being labeled as entitled, apathetic, and even lazy; is too much freedom and flexibility a good fit?
Amanda: I will say that the stay-at-home business owner deals with a blurred line between work and leisure (which I only mention because I'm going through it right now-trying to build a freelance writing business while pregnant!)… but the freedom is still there. And the reality that more women can opt for that path is liberating.
Rosalinda: Thank you very much, Amanda. I appreciate your time and learning more about the millennial mind.
Final thoughts: Before you judge a millennial, or any other generation, get to know the person first. They will either confirm your preconception or sway you to think differently.
For more information about Amanda Suazo and her freelance services, please check out her blog, at Here's Amanda. Follow her on Twitter, @suazgirl
Next week, my guest will be Jess-Confessed.
Helping Businesses and Individuals Find Success Through Better Communication and Social Skills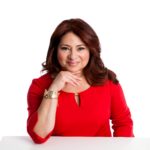 Rosalinda Oropeza Randall, Social Skills and Civility Presenter, Media Source, and author of "Don't Burp in the Boardroom."
Presentations are available to support HR policies, sales teams, up and coming managers, millennials & new-hire orientation process, service technicians, professional development events, conferences, college/university students, interns. For more information, please contact me, 650.871.6200.
©2017 Rosalinda Randall. All Rights Reserved.