Hotel etiquette applies to all guests, including passionate lovers.
Whether it's for Valentine's Day, an anniversary, or any other romantic rendezvous that includes a hotel room, planning ahead can help make the stay more pleasant.
For example, you may decide to order wine, flowers, or request a specific style room. And, don't forget to pack the special cologne and nighttime outfits.
Whether it's a suite or a modest room, location within the hotel is key. Not everyone who stays in a hotel is there for amorous purposes.
Hotel etiquette includes courtesy, consideration, and respect for other guests. While you may be looking forward to a wild and romantic tryst, others may be preparing for an early interview, attending a funeral, getting away from a sticky situation at home, or trying to put their children to bed.
For lovers: Here are 6 tips to help mute your passion so you don't disturb your neighbor
 The mood is just right and the passion is heating up, when you are interrupted by angry pounding against the common wall. What do you do?
1. Noise: Whether it's the sound of love making or television, turning down the noise by eleven o'clock on weekends, and nine o'clock weekdays is courteous and considerate of other guests.
2. Drown it out: Turn on the television. This can help diminish and mix in with the sounds of passion.
3. Position: Put a little distance between you and the wall by changing positions, feet facing the common wall.
4. Furniture options: If a sofa or sofa-bed is available, and not next to the common wall, consider moving locations. Not only for your protection, but for future guests, and to avoid soiling the fabric, place a sheet on the sofa before using.
5. Shhh: Pretend you're trying to keep quiet so that you don't get caught.
6. Continue the Fun tonight, apologize tomorrow: If you chose to ignore the complaints, consider sending your neighbor a complimentary breakfast or ask the front desk how you can make up for the disturbance.
More tips to consider:
– Next time you reserve a room for amorous purposes, request a corner room. Consider renting a stand-alone cottage or condo for more privacy.
– Look into hotels that cater to couples or offer spa-like atmosphere and amenities.
Note: A sense of humor is suggested when reading some of the tips.
---
Etiquette Expert, Author, Media Source  | Actor
Serving as an expert source for media. Imparting advice to businesses, private sessions, and the film industry. Available to hold virtual or in-person session to prepare individuals/college groups for job interviews, networking skills, dining etiquette, refresh communication skills, professional presence…Or, to address specific concerns.
Film industry:  Fine-tune actors' etiquette skills for roles.
YouTube: Rosalinda Oropeza Randall
Instagram: rosalinda_randall
Facebook: Rosalinda Oropeza Randall
IMDb: Rosalinda Oropeza Randall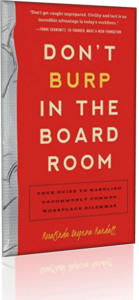 AVAILABLE at Amazon or Barnes and Noble: "Don't Burp in the Boardroom", "Keep Your Distance!"
© 2023 Rosalinda Oropeza Randall
Photo: Pexels, sinead michaela duplessis