Remembering 9/11
For some people, remembering 9/11 is just a distant memory.  For others it's a day that stirs up hostile thoughts and feelings; for others, sadness and sorrow.
Whether you prefer to use the phrase, "Never forget" or "Remember…," what is it we should truly never forget or always remember?
Well, we can focus our attention on terrorists and animosity toward all middle-easterners.  Or we can stir up rage at ourselves for becoming complacent, or perhaps point our finger and blame our government.  In my opinion, all are understandable, however, pointless.
Human nature is to seek answers, find solace, seek revenge, protect and defend, and make sense of tragedies; 9/11 is no exception.
Fifteen years later, theories are still flying around about who was involved, who knew about it, and who could have stopped it. For now, at least for today, stop it!
Set your point of view aside; set it aside as a sign of respect for those who died, assisted, and survived.
I prefer to remember 9/11 and never forget this way:
How pettiness was set aside.
How we dropped what we were doing to help others.
How we were proud to fly our flag.
How we all found commonalities and forgot our differences.
How we were all Americans first, and individuals second.
How we felt sorrow, helplessness, and confusion–seeking comfort in one another.
How much kinder we were to one another for the months to follow.
How we opened our wallets for those in need.
How we viewed our first-responders with admiration and high esteem.
How we risked our own life to safe another, without giving it a second thought.
How neighbors gathered, getting to know each other, and talking for the first time.
How we held on to our children with a combination of fear and intense tenderness and love.
How we adjusted our life and vowed to spend more time with our family, become a better version of ourselves, be proud of our job, volunteer, and smile more often.
In memory of the fear we felt as a country, the unity we felt, and for those who died, were injured, witnessed, and assisted on 9/11 and beyond, let us honor them by reawakening and living out the civility, kindness, harmony, and pride to be living in a country that when shaken, unites.
That is how I will be "Remembering 9/11."  
Link to 911Memorial.Org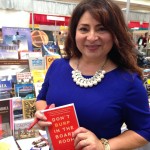 I'm Rosalinda Oropeza Randall, Civility and Etiquette Speaker/Trainer, Media Source, and author of "Don't Burp in the Boardroom."
I offer presentation/keynotes to support HR policies, sales team, managers, as part of the new-hire orientation process, service reps, professional development events, conferences, college/university students, interns. For more information, please contact me.
Photo Source: ClipArtKid.com