Halloween Etiquette for the Workplace: Dos and Don'ts
Halloween is creeping around the corner, and you want to add some Halloween flair to the office, but your enthusiasm isn't overwhelming shared. Is it possible to still have fun while keeping it professional on Halloween?
Depending on your work environment, the company policy, your boss's perspective, and your position within the company, keeping things simple yet spirited, may be a good compromise.
Before listing a few dos and don'ts to consider, watch my recent TV appearance on the subject here: Halloween Etiquette for the Workplace, Good Day Sacramento
Decor: Let's keep it fun and simple.
Avoid anything that might be overly gory or frightening. You don't want to scare away any coworkers who choose to opt out of Halloween festivities.
Does it take over your desk or office? Does it pour over into your coworkers space?
Avoid a motion-activated Halloween prop. I know it would make me jump out of my skin, every time.
What does the company policy say about decorating common areas? Who puts it up? Who takes it down?
If you share workspace, it's polite to ask your office mate their opinion before you decorate.
Coworkers: Not everyone is into Halloween.
Don't question why someone doesn't want to wear a costume or decorate.
When you're aware of a coworker who opts out, avoid playing pranks or insisting they participate.
Don't cause someone a delay because you're so focused on all-things-Halloween.
Costume Considerations: Dressing up can be fun when discretion is applied. Before you invest time and money in the perfect costume, think about your professional image and judgement.
Avoid anything that could be offensive or inappropriate for the workplace. For example: political/religious figures – causes – places of unrest – overly sexy
Does you costume impede you from getting your job done? Is it oversized? Are you able to sit? Are you able to slip out of it without assistance?
TIP: Consider two costumes, one for work and the other for after hours.
On-The-Clock Reminder: How are you spending your time?
Don't force your coworkers to pick up your slack. Maintaining professionalism is still expected. Have fun with your coworkers, but be sure your work tasks are still a priority.
Don't neglect replying to calls, emails, etc.
Before you post on social media, check the company's policy. Additionally, do not post photos that include coworkers without their permission.
It is possible to make Halloween a memorable without compromising our work environment. Happy Halloween.
---
Etiquette Expert/Trainer, Author, Media Source 
Nationally recognized etiquette expert with over twenty years of providing trainings, and serving as a source for media.
Trainings are available for: corporations, sales teams, on-boarding, to support code-of-conduct policies to set a standard for employees, universities/college groups, school staff, customer service staff, dining etiquette programs for youth through adult, and actors preparing for audition/roles.
YouTube: Rosalinda Oropeza Randall
Instagram: rosalinda_randall
Facebook: Rosalinda Oropeza Randall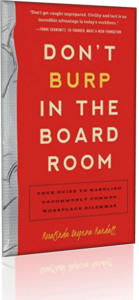 AVAILABLE at Amazon or Barnes and Noble: "Don't Burp in the Boardroom", "Keep Your Distance!"
© 2023 Rosalinda Oropeza Randall