Hotel Etiquette for the person next door to the passionate lovers
Hotel etiquette? It's not what passionate lovers think about.
You have just settled into that sweet spot in your hotel bed, when you hear the passionate sounds of the guests next door. You shake your head because you've got to get to sleep to catch that early flight in the morning.
You try counting sheep. You try stuffing tissue in your ears. You place the pillow over your head, but nothing works.
Etiquette tips for the person next door to the passionate lovers:
1. Distraction: Turn on the television on low to create another sound that you can focus on.
2. Can't beat 'em…: Go with it and reminisce about your past escapades. It won't get you to sleep, but it can be pleasurable until you do.
3. Ask for help: Call the front desk. This can be the wisest choice; relieving you from any potential retaliation.
4. Read: Cozy up to the shared wall, and enthusiastically begin reading the Gideon Bible.
Related reading: Hotel Etiquette for Passionate Lovers
More tips to consider:
– When I travel, I carry earplugs. In fact, some hotels provide them.
– If you require a quiet environment, request it when you make your reservation, or upon arrival.
– Select a hotel that caters to business travelers.
Note: A sense of humor is suggested when reading some of the tips.
---
Etiquette Expert, Author, Media Source  | Actor
Serving as an expert source for media. Imparting advice to businesses, private sessions, and the film industry. Available to hold virtual or in-person session to prepare individuals/college groups for job interviews, networking skills, dining etiquette for all ages, refresh communication skills, professional presence…Or, to address specific concerns.
Film industry:  Fine-tune actors' etiquette skills for roles.
YouTube: Rosalinda Oropeza Randall
Instagram: rosalinda_randall
Facebook: Rosalinda Oropeza Randall
IMDb: Rosalinda Oropeza Randall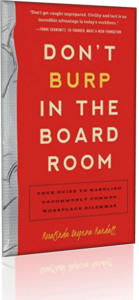 AVAILABLE at Amazon or Barnes and Noble: "Don't Burp in the Boardroom", "Keep Your Distance!"
© 2023 Rosalinda Oropeza Randall