The holiday season can bring about unique dilemmas. How we choose to address them can determine a joyful or miserable outcome.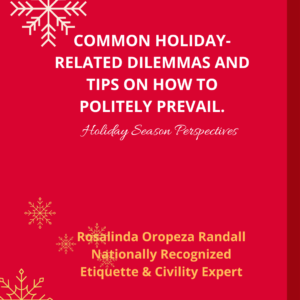 In my new e-book, I address dilemmas and offer tips and advice on topics like, how much to spend if you're in a new romantic relationship; how to decline an invitation if you're in recovery; replying to nosy questions; receiving a gift, but don't have one for them, and many other potentially awkward situations.
My gift to you. Download and share:
NEW E-book; Common Holiday-Related Dilemmas and Tips on How to Politely Prevail
HAPPY HOLIDAY SEASON. 
MAY 2023 BE PROSPEROUS AND MAY CIVILITY FLOURISH. 
---
Etiquette Expert, Author, Media Source  | Actor
Serving as an expert source for media. Imparting advice to businesses, private sessions, and the film industry. Available to hold virtual or in-person session to prepare individuals/college groups for job interviews, networking skills, dining etiquette, refresh communication skills, professional presence…Or, to address specific concerns.
Film industry:  Fine-tune actors' etiquette skills for roles.
YouTube: Rosalinda Oropeza Randall
Instagram: rosalinda_randall
Facebook: Rosalinda Oropeza Randall
IMDb: Rosalinda Oropeza Randall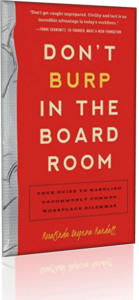 AVAILABLE at Amazon or Barnes and Noble: "Don't Burp in the Boardroom", "Keep Your Distance!"
© 2022 Rosalinda Oropeza Randall