Regrettable Tattoos
First impressions.
The tattoo has become almost mainstream, and has no age barrier.
For those of you who are over 30 years old and have tattoos, do you still like the one you selected when you were 19?
So, when poor ol' Billy Gibby of Anchorage, Alaska decided to 'host' porn sites on his face, did he really think about what he'd do if the porn site would cease to exist?
Billy, now known as Hostgator Dotcom, has a change of heart. With five children to support and no longer commanding the big bucks for the advertising, he wants out. With only a few body parts off limits, he is selling prized skin for profit.
If you need a new way of marketing your business, you know who to contact.
Final thoughts:

I may consider getting a tattoo. In fact, I know exactly what I'd have inked. With that disclosure, I urge and encourage you to get inked in a part of your body that you can cover up. There are still certain industries that do not look favorably upon tattoos. Why close the door to any opportunities, even if you think you'll never go 'corporate'. You can have your 'ink' and career choice too!
Helping Businesses and Individuals Find Success Through Better Communication and Social Skills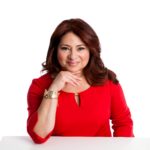 Rosalinda Oropeza Randall, Social Skills and Civility Presenter, Media Source, and author of "Don't Burp in the Boardroom."
Presentations are available to support HR policies, sales teams, up and coming managers, millennials & new-hire orientation process, service technicians, professional development events, conferences, college/university students, interns. For more information, please contact me, 650.871.6200.
Photo source: nydailynews.com