Being comfortable is important when traveling. I there such a things as taking it too far?
But I'm not. Unless you're going to be locked up in your car alone or with your family members who love and accept you no matter what, please cover up.
Sitting next to you with half your chest exposed, bare arms, and worst of all the sweaty armpit in my face is not pleasant. Okay, you may have just showered, but people don't perceive it as such.
While it can be attractive to some people, exposing your bulging muscles in a setting like an airplane is not the place. You may not get lucky enough to be seated next to an impressed or interested party. Besides, what is your point?
Gentlemen, consider reserving the tank-top style shirt as an undergarment, for picnics, sports-related places, or poolside-wear. Especially the huge-arm hole version and the ever-popular mesh tanks. Thank you.
Ladies, baring all while traveling in close quarters also creates a little uneasiness to your seat mates.
Naturally, if you're travelling during summer months, or headed to a warm-weather destination, you will probably wear something appropriate to the climate. A cotton shirt, a flowly summer dress, or mid-thigh to knee-length shorts with sandals or tennis shoes are a perfect choice. If you need to go shopping for these items before your travels, be sure to check out Raise to see which brands and stores you can find discounts for. Saving money here will mean that you can stretch your travel budget further.
Other things to consider if you wear short-shorts or short skirts:
Legs get sticky and can sting as you peel away from the seat.
You can pick up the last guest's sweat and who knows what else.
You'll constantly be tugging and pulling and probably getting all annoyed by the creepy stares.
Please consider the person that will be sitting next to you. Sitting next to overexposed skin just feels more intimate and kind of gross.
Oh, and by the way, keep your shoes on. This includes flip-flops. Inevitably, you're gonna start rubbing your toes and with that same hand, I'll have to accept the cup of coke the flight attendant hands to you to hand to me. Nasty!
Helping Businesses and Individuals Find Success Through Better Communication and Social Skills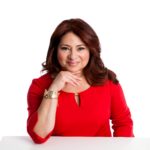 Rosalinda Oropeza Randall, Social Skills and Civility Presenter, Media Source, and author of "Don't Burp in the Boardroom."
Presentations are available to support HR policies, sales teams, up and coming managers, millennials & new-hire orientation process, service technicians, professional development events, conferences, college/university students, interns. For more information, please contact me, 650.871.6200.
©2017 Rosalinda Randall. All Rights Reserved.