ETIQUETTE TIPS FOR ACTORS & FILM INDUSTRY
Rosalinda Oropeza Randall | Etiquette Expert and Actor/Actríz
Speaking out can either be helpful or harmful to your reputation and career.
As an actor and expert television guest, I've been on a variety of sets and green rooms. Sitting in a room with various other talent and guests can be uneasy, awkward or enjoyable.
Usually there's someone in the group who starts up a conversation. Naturally, this helps pass the time, forge new connections, share experiences, and learn how and why they are there.
In my years of experience, I've only run into a couple of individuals that made the wait a bit unpleasant.
One individual couldn't stop talking about how great they were. The other decided to stir things up by introducing a controversial topic.
Not long ago, a seasoned actor sought my advice, from an etiquette expert's perspective, regarding an on-set incident. They were on a call-back with an-almost guaranteed ongoing role. On set, they were sitting beside the Casting Director. This actor decided to go on a tangent about their disdain for a political figure, using hateful, angry words and tone. They never received a call-back or offer…"It wasn't going to work out." The actor wondered if their rant had anything to do with it.
If you haven't already gasped, here are a few reasons why I did:
♦ You are there to do a job. Your personal opinion [outside your role] is not required.
♦ You assume that the CD concurs with your opinion. Insulting the CD's beliefs is not a good thing.
♦ If the CD doesn't initiate a conversation, that's a silent signal, "Don't talk to me." Even if you perceive that the CD is blankly staring, it is not an invitation to speak.
♦ You have just provided the CD a glimpse of how volatile and tactless you can be. As well as having poor judgement. "Problem" actors are eventually written off.
♦ If your agent sent you, you have potentially compromised your agent's reputation.
♦ Your actions may have given your agent a reason to sever or reassess your relationship.
♦ Fellow actors who may have observed or heard about your rant, won't be standing in line to work with you in the future.
Actors: Avoid using auditions, on-set, green rooms, to express your personal opinions. Make a good lasting impression and deliver your best. #castingdirectors #filmdirectors #actortips #etiquette
6 etiquette tips that may help actors discern what is appropriate to discuss on set or in the green-room:
With the exception of a few, most actors/expert guests are there to make a good impression, remember their lines/key points, deliver their best, and avoid causing any trouble.
Learn how to notice and read social cues. (As an etiquette expert, I can help you with that.)
Don't impose how you're feeling on others. Even if your thing is spreading joy by whistling, singing, pacing, greeting everyone in sight, not everyone appreciates that.
You may subscribe that we are all on the same playing field, not everyone agrees with you. Deference may be the best practice, at least initially.
I recommend that you approach every individual in a time-honored traditional greeting. Especially if the person is of some notoriety. Take their lead on how to proceed, and kick it up a notch by maintaining a respectful tone.
If a conversation ensues, keep it light, upbeat, and non-personal.
Avoid topics like: politics, religion, personal drama/problems, gossip, whining, excuses, illnesses, blame, and bragging.
ADVICE FOR SOCIAL MEDIA PLATFORMS:
And finally, practice the same tips on your social media platforms. Casting Directors, agents, and fellow actors learn a lot about you by reading your posts and comments. Both before and after they meet you.
Sharing your religious or political beliefs, or showing support for a particular cause is not the concern. It's what you say that reveals a lot about your discretion. Not that you haven't heard it before.
Do you focus on how much you hate whatever or whomever you oppose or disagrees with you? Instead focus on why you support whatever or whomever. It's a more productive, polite, and positive way to spread your opinion.
---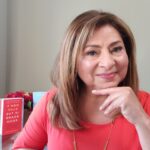 Etiquette Expert, Author, Media Source | Actor/Actríz
Imparting advice to businesses, private sessions, and the film industry. Available to hold virtual or in-person session to prepare individuals/groups for job interviews, dining out, improving communication techniques. For the film industry to fine-tune actors' etiquette skills for roles. Bilingual (Spanish/Mexican). Certified COVID Compliance Officer.
YouTube: Rosalinda Oropeza Randall
Instagram: rosalinda_randall
Facebook: Rosalinda Oropeza Randall
IMDb: Rosalinda Oropeza Randall