Etiquette lesson by Kanye West: Don't say stupid stuff.
Next time you bump into Mr. West at the airport, make sure your question is intelligent or of interest to him. Cuz he said, "…people like to say really stupid stuff to me."
Most celeb's want to please their fans, but it doesn't mean that they like having to stop and meet and greet everyone that crosses their path. They'd be late for everything!
Whether they are delayed at the airport, or having a cup of coffee, remember that they have grumpy and tired moments just like us.  And like us, they just don't feel like meeting a fan or making idle chit-chat.
Cues: 
If they are on their phone, don't interrupt.
If they are dosing off, don't wake them. (Yes, they might be faking it, but you can't be sure.)
If they are playing with their child or involved in a deep conversation with their travel mate, don't interrupt.
When meeting a celebrity, get to the point. That's how you can avoid saying "stupid stuff": 
You'd like a selfie photo. Have the camera ready! Say, "thank you."
You'd like him/her to sign your shirt. Have a pen ready! Say, "thank you."
You'd like to share a personal life changing experience because of their song/movie/speech. Make it brief and thank him/her.
Step away once you get what you want. No doubt there are others waiting behind you.
Helping Businesses and Individuals Find Success Through Better Communication and Social Skills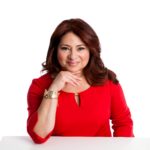 Rosalinda Oropeza Randall, Social Skills and Civility Presenter, Media Source, and author of "Don't Burp in the Boardroom."
Presentations are available to support HR policies, sales teams, up and coming managers, millennials & new-hire orientation process, service technicians, professional development events, conferences, college/university students, interns. For more information, please contact me, 650.871.6200.
©2017 Rosalinda Randall. All Rights Reserved.