Restrooms Are For Customers Only
A private establishment's restrooms are not open-to-the-public.
Do you remember the "Occupy Wall Street" phenomena?  The The Daily Show did a piece about the protestors' use or misuse of local businesses' restrooms.  "…several local restaurants and delis are fed up with the protesters, who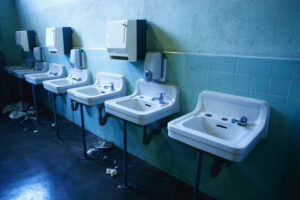 come into use the bathroom without buying anything.  One demonstrator tells Bee that not buying anything is his "right as a consumer."  Hmm.
How do you feel about using an establishment's amenities without making a purchase?
About two weeks ago, I needed to "powder my nose".   With no gas station in sight, my choice was a blue plastic outhouse which was surrounded by a group of napping gentlemen and their poor ragtag dogs.  There had to be another option.  After circling the residential area, I spotted the library–and it was open–on a Sunday–and they were having a book sale!  Needless to say, the library was teeming with volunteers who were roaming the halls.
Using a "powder room" without buying something was not how I was raised; what was I to do.  If had been carrying cash, my dilemma would have been solved.  I would have purchased a book, supported "The Friends of the Library, all while buying permission to use the restroom.
I spent fifteen minutes looking at books and being chatted-up by the volunteers about the book sale…every Sunday from noon to three…followed by the unsolicited directions on how to get to another book sale site nearby.  One volunteer asked the other, who asked the other what the name of the cross street was…By this time, my urge had gone away.
Did I mention that my husband was in the car waiting for me–now becoming a bit concerned.
Finally, after 15 minutes of polite chit-chat, I was able to sneak downstairs to use the powder room–without buying anything!
Someone explained this situation likes this:  "I go to Starbuck's and don't always use the restroom–they owe me."  Hmm, again.
What lengths will you go to to use the restroom?
May Take:  If you absolutely need to use the restroom, approach the host/cashier and ask.  If you ask in a polite manner, most places will gladly allow you to use their facilities.  There are two types of businesses that lend themselves as a pit-stop; gas stations and mini-marts.  If the mini-mart is not attached to a gas station, buying a bottle of water or mints is a nice gesture.  If you decide not to make a purchase, at least say, "Thank you." on your way out.
Helping Businesses and Individuals Find Success Through Better Communication and Social Skills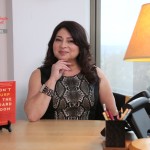 Rosalinda Oropeza Randall, Social Skills and Civility Presenter, Media Source, and author of "Don't Burp in the Boardroom."
She also offers customized presentations geared for specific audiences including: Startups, IT Professionals, Service Professionals, Sales Professionals, New Hires, Millennials, and an entire series for College and University students and athletes moving from the classroom into the workplace.. For more information, please contact me. 650.871.6200.
Photo source: Bren