ETIQUETTE TIPS AND ADVICE FOR ACTORS AND THE FILM INDUSTRY:                                                                                                                           
Rosalinda Oropeza Randall, Etiquette Expert, Author, Actor/Actríz
How to pick up on social cues: I've been in several green rooms across the country over the last five years, many times face to face with celebrities. There were celebrities who made eye contact as they entered, and some greeted me. A few even engaged in small talk. But I was acutely aware and respectful of their social cues.
[bctt tweet="Knowing when to disengage eye contact, and when a conversation needs to cease, is a skill worth mastering. #communicationskills #socialcues #tact #actorslife #professionaldevelopment #etiquetteexpert #actriz #bilingualactress " username="@rosalindatweets"]
Should you continue to engage with another actor/celebrity when they have clearly conveyed an end via a social cue, word can get to the Casting Director/Producer, and you may find your part eliminated, or asked to leave. No matter which, it's embarrassing and a mark against your professionalism and reputation.
Not everyone is there to make friends and swap social media accounts. There are individuals, celebrity or not, who enter a room without making eye contact with anyone, quickly finding a quiet and isolated space. Don't be offended. Don't whisper to anyone about their choice, and certainly don't post on social media how rude so-and-so is.
Many actors arrive "in character" and maintain their character throughout the shoot. Be respectful of their process.
I've recently met an actor who admitted to being very shy, except when they are acting. Please don't mistake someone who has shy tendencies or happens to be more of a listener as anti-social or arrogant. Some individuals prefer to observe and take-in their surroundings for a bit before participating.
4 Common Social Cues: 
1. If I disengage eye contact, look away to talk to someone else, or check my phone, take a hint.
2. If I turn my body away from you or stand up, take a hint.
3. If I'm nodding a lot or saying, "uh-huh" a lot, take a hint.
4. If I haven't said anything, asked, or shared something to contribute to the conversation, take a hint.
---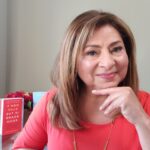 Etiquette Expert, Author, Media Source | Actor/Actríz
Imparting advice to businesses, private sessions, and the film industry. Available to hold virtual or in-person session to prepare individuals/groups for job interviews, dining out, improving communication techniques. Film industry:  Fine-tune actors' etiquette skills for roles. Bilingual (Spanish/Mexican). Certified COVID Compliance Officer.
YouTube: Rosalinda Oropeza Randall
Instagram: rosalinda_randall
Facebook: Rosalinda Oropeza Randall
IMDb: Rosalinda Oropeza Randall
Books: "Don't Burp in the Boardroom", "Keep Your Distance!"
© 2021 Rosalinda Oropeza Randall