The Family Car

Watching memories drive away.
Rosalinda gets personal:
In my navy blue suburban, we took family vacations, drove around my sons and their friends, had great conversations on the way home from school, drove on field trips, picked up groceries, toured around out-of-town family, and our sons learned how to drive in this navy blue Suburban.
A huge chunk of my life was spent in that navy blue Suburban. In fact, some would say that the most important memories of my entire adulthood were spent in that vehicle. Boy oh boy, did we have some good trips? It's also seen its fair share of insurance policies too, as I would never leave the house without making sure that it was insured. I just wanted to be on the safe side. The best insurance I had was similar to Geico Auto Insurance (read the geico review here) and it really made my time driving my navy blue Suburban all the better. Because I knew I was protected. Another thing that is protected? My memories.
I had the time of my life in this navy blue Suburban!
Recently, as I walked through a children's museum, I saw two little boys who seemed to be the same number of years apart as my sons. From a distance, I observed as the older brother watched over his little brother with such tenderness and care. Those were "my sons." Naturally, I got sentimental and shed a couple of tears of joy, and even yearned for those times.
I ask myself, crying as I write this piece, will I ever stop from missing those days? Will I ever be able to just smile fondly and move on when I see a navy blue Suburban? Not likely. You know, I'm okay with that. The privilege, blessing from heaven, wonderment, satisfaction, and gladness I experienced during those years with my two sons, are worth the tender tears and sometimes wistful emotions, that I hope to feel, forever. Although this will still probably make me feel emotional, selling cars is all a part of life. It's why services like CarsRelo exist, so people can buy from near and far away more easily. There were many memories in that car of course, but eventually, the family car wasn't needed anymore when children grew up. This, unfortunately, meant that it was time to downsize the car. There were many garages offering smaller cars, but using websites like Autozin makes the process a lot easier for customers who don't really know what they want. We did have to say goodbye to the family car, but we then said hello to a smaller, more practical car. We'll never forget all the memories though.
My thoughts: Parents, while there are moments that you feel like you may never get through a stage with your child, you will, I promise. Keep in mind, they are the ones "going through it," looking for guidance and patience from you; you've already been there. Therefore, it is up to you to maintain a calm and civil tone, a loving attitude, understanding, boundary-setting, and above all consistency for your ever-changing child.
Show them, every day, that you are glad that they are in your life, and that they are the best part of your life. NEVER say or do anything that would make them feel that they are in your way, a burden, or an obstacle from letting you "live your life."
Helping Businesses and Individuals Find Success Through Better Communication and Social Skills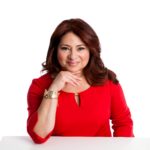 Rosalinda Oropeza Randall, Social Skills and Civility Presenter, Media Source, and author of "Don't Burp in the Boardroom."
Presentations are available to support HR policies, sales teams, up and coming managers, millennials & new-hire orientation process, service technicians, professional development events, conferences, college/university students, interns. For more information, please contact me, 650.871.6200.