Don't get fired or experience an embarrassing moment because of what's found on your work computer's 'history.'
The recent sex-scandal implicating tech-sector employees reported by Newsweek, revealed that men working for well-known tech companies ordered "sex" using their work computer. Really? Don't these guys have a personal cell phone they could have used?
A summary of a employee's email rights according to SHRM (Society for Human Resource Management),
…an employee's personal use of e-mail and the Internet during business hours affects the employer's productivity and profitability…employee misuse of electronic communication media can place organizations at risk for legal liability and breaches of data security. Employers can face claims of sexual harassment, discrimination, defamation, copyright infringement and other improper conduct arising from employee misuse of computerized communications. Also, employers must be concerned with protecting trade secrets and proprietary information.
[bctt tweet="Avoid #harassment claims, embarrassing moments…Keep everything you do, write or say at #work, #professional. #etiquette #careeradvice" username="rosalindatweets"]
How to use your work computer so that you don't get fired (or reprimanded):
–  Avoid using your work computer for personal endeavors such as:   Job search  •  Easy ways to sue your employer.  •   How to start a business.      •    How to take a client list when you quit.
–  Use your break time or before or after work hours to do research. It's still within the company's domain, however, you aren't stealing* productivity time.
*You are getting paid to do a job, when you use that paid time to conduct personal business, it is considered stealing. Are you prepared to give back the amount of time used?
–  Don't email smutty photos, lewd emojis, off-color jokes (even if you weren't the creator).
–  Don't email details of your weekend hookups.
–  Don't email comments about how hot or not a coworker or client looks.
–  Don't email gossip; that's what the water cooler is for.
–  Don't email links to porn sites, escort services or related services.
–  Avoid online searches for medical or mental health concerns.
–  Avoid online searches for coworkers, clients, or management, unless it is a professional site like Linkedin.
Final thoughts: "But everyone does it." It comes down to integrity and ethics: How much time do you steal from the company? Extra long breaks, hallway chit-chats, playing ping-pong, dropping off dry cleaning, checking your social media accounts, texting your friends or child…it all adds up. When a service charges you by the hour, how do you feel if they take time to make a few calls on 'your dime?"
---
Note: I often use sarcasm and/or humor to make a point, scoff or highlight absurdity.
Disclaimer: My advice is general and may not suit your particular situation. Additionally, to keep it brief, my answers are basic. Lastly, there is always more than one way to handle a dilemma.  Copyright 2018, Rosalinda Randall. All Rights Reserved
---
Combating Rudeness and Helping Businesses and Individuals Build a More Respectful Workplace Through Social Skills, Effective Communication, and Modern Business Manners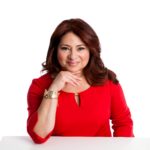 Rosalinda Oropeza Randall, Social Skills, Communication Skills, Business Etiquette Expert, Media Source, and author of "Don't Burp in the Boardroom." Trained in Sexual Harassment & Business Ethics.
Presentations are available to support HR policies and harassment compliance, address concerns, or to avert potential inclinations – Up and coming managers – Millennials – Interns – New-hire orientation process – Layoffs to help prepare them for interviews – Professional development events or conferences – College/university students.
For more information, please contact me via email, or by calling 650.871.6200 before a dilemma turns into front page news.
©2018 Rosalinda Randall. All Rights Reserved.