Women in Advertising

Advertising does pay–how far are you willing to go to promote your client?
What do you think about this latest advertising craze?
Japanese women are getting paid to wear ads on their thighs. They receive anywhere from $13.00 to $121.00 per day to stick on a temporary tattoo. This a questionable thing when you think about how much recognition and appeal a business would get if they just used some app store optimization instead! They'd probably get more revenue this way too!
Anyway, if this is for you, then before you sign up, there are a couple of stipulations:
Must 18 years of age.

Must have 20 social media connections for posting purposes.

Must wear thigh-highs.

Must wear short skirt…how else will you see the advertisement.
My thoughts: To pull this off, you must be prepared to be stopped, receive comments, be stared at, and possibly touched.
We all advertise; our choice of attire, hair style, our facial expression, and in the way we walk. In the workplace this is a form of communication, coupled with our social skills, we are sending out a message about who we are.
Helping Businesses and Individuals Find Success Through Better Communication and Social Skills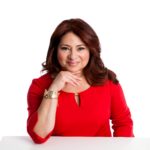 Rosalinda Oropeza Randall, Social Skills and Civility Presenter, Media Source, and author of "Don't Burp in the Boardroom."
Presentations are available to support HR policies, sales teams, up and coming managers, millennials & new-hire orientation process, service technicians, professional development events, conferences, college/university students, interns. For more information, please contact me, 650.871.6200.